JEF Belgium Training Days 2020 – online edition
December 4, 2020 @ 19:30

-

December 5, 2020 @ 16:30

Free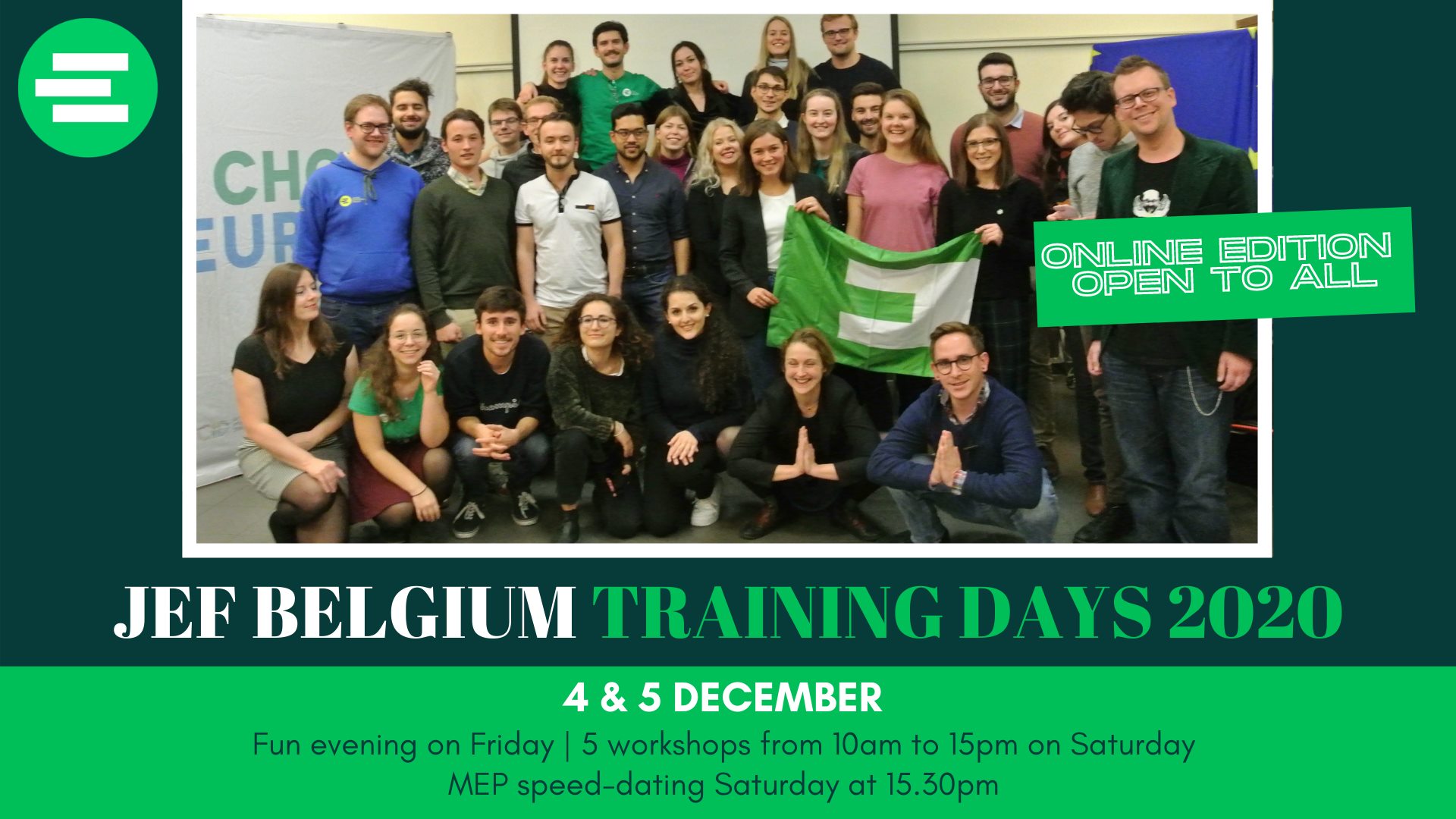 Here they are at last: the 2020 Training Days of JEF Belgium. Pencil in the dates in your calendar: & December, we meet online!
The coronavirus unfortunately prevents us from meeting physically like every year. However, JEFers are resilient activists and we are therefore thrilled to invite you to our
digital 2020 Training Days
Given the circumstances, this year will be a light version, always in the spirit of improving the skills of our members and young people, but less intense so as not to spend the entire weekend in front of your screen
The best of both worlds: you get to become a better activist while still having free time to enjoy fresh air. You're welcome
It is also an opportunity for us to make our training days
more inclusive than ever
. So, whether you are already a JEFer or not, passionate about Europe or not knowing much about it, activist or wannabe, SIGN UP for the workshops you are interested in and let yourself be empowered, informed and inspired to change Europe
Agenda
Friday
19:30-20:30: fun evening. Bring your chips, your beer, your carrots and your humus and come to discuss and get to know each other through games
Saturday
10:00-10:30: welcome
10:30-11:30: Workshop 1 on Europe & federalism (English)
11:30-11:45: coffee break
11:45-12:45: Workshop 2 & 3 – you can choose between how to become a communication guru (French) or diversity training (English)
12:45-14:00: lunch break
14:00-15:00: Workshop 4 & 5 – you can choose again between project management or advocacy and activism (both in English)
15:00-15:15: coffee break
15:15-16:30: MEP speed dating. We will have the pleasure to welcome several Members of the European Parliament. Divided in breakout rooms, you will have the chance to ask them all the questions you always wanted to ask.
16:30: group screenshot selfie and closure
How to participate Nothing could be easier, just fill in this Google Form and tick the workshops you are interested in. Don't forget to put your address if you want to receive a little surprise from us by mail
We hope to see you there and please share the word!
Federalist virtual hugs,
The JEF Belgium team