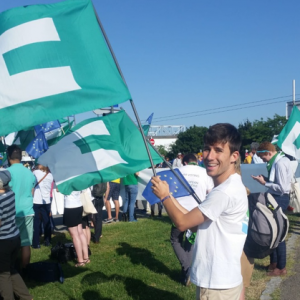 Hello there! My name is Nico.

After 3 amazing years first at JEF Liège and then at JEF Belgium as policy and project officer, I now have the immense pleasure to be president of JEF Belgium and to rule over this fabulous group of federalist minions.

I get very cheesy when I start talking about JEF so I hope you're not lactose intolerant (stop eating dairy anyway, you are not a baby cow!).
Being a JEFer has brought me so much over the past few years, be it in terms of self-confidence, knowledge, skills or inspiring friendships. It really makes me a better person and I can't wait to grow from this year as well which already promises to be full exciting projects and amazing people. This year, I want to make sure that JEF Belgium shines and that our JEFers thrive.
Never doubt that a small group of thoughtful, committed (young) citizens change the world. Indeed, it is the only thing that ever has". If you think so too, then you should join JEF. Never hesitate to contact me directly at nicolas.hubert@jefbelgium.eu in French, Dutch or English. I am sure super nice and I'm sure we have a project that will suit you, through which you can express yourself and make the best of it for you. Look forward to hearing from you. Nico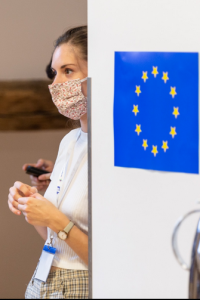 Originally from Brussels, I discovered JEF around a couple of beers in Liège. I wanted to learn more about the EU and meet new people.
Federalist? I didn't even notice that weird F at the end, I wanted to get involved in a Young and European environment, but at the time I had no idea JEF was more than that. It is unexpectedly that events after events, meetings after meetings I got the chance to discover a movement that fits my values and hopes for the EU.
An European federalism is for me a target to reach, while along the way there are many opportunities for the EU to improve. And JEF as an open-minded and inclusive movement is for me the perfect place to share thoughts and work together on a better European Union.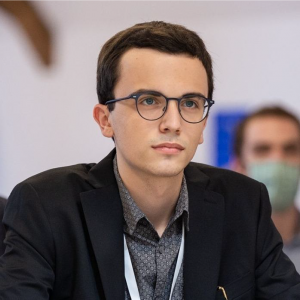 In my University courses, I studied the European Union from a theoretical perspective. I quickly realised that I was passionate about European politics, but I needed more Europe in practice.
That's why I joined JEF Belgium and the local section JEF Liège, in early 2020. In September 2020, I had the opportunity to co-organise the European hackathon « Youth hacks Europe ».
Passionate about scientific popularisation and education, I attach importance to the accessibility of European issues for all.
I am also involved in several other projects and organizations that promote youth citizenship (Civix, Youth Forum, European Youth Dialogue, …).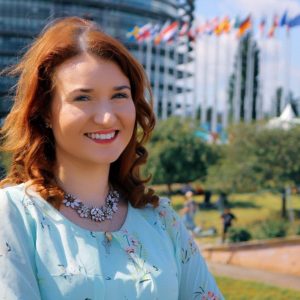 Young professional in digital transformation and corporate/political communications, currently living between Belgium and Italy.
I'm a board member for JEF Belgium, using my communication skills to promote the federalist dream.

This is my first role in JEF, after taking part in the Hackaton hosted by JEF Liège in 2020, where my team won the second place!
I have acquired skills in digital marketing, paid ads, content creation, copywriting, social listening, and graphic design. Furthermore, I had the chance in few years to work and volunteer in 9 different countries, which provided myself a rich and diverse academic and cultural background.
I truly support the Erasmus Plus programme as it provides young people with opportunities to develop soft skills and enhance their employability regardless of their economic background. I have been involved in 7 projects as a participant and 3 as a trainer. In addition, I covered the position of Event Management Team Leader for the Europeers UK project, hosting conferences to promote European projects during the Brexit referendum and a workshop on its consequences on Erasmus Plus during the European Youth Event in Strasbourg 2018. 

In my free time, I am a resin artist and an advocate for mental health awareness. Because from who you are to who you want to be, there is only a leap of faith.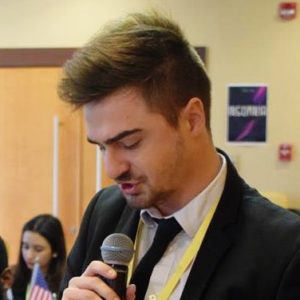 I am Cédric, a Belgian from Mons and living and working in Brussels at the moment.

I work as project manager and communication officer at Wallonie-Bruxelles International, which are the international relations of Wallonia and Brussels.
My academic background is linked to the international relations, which I graduated in 2018 at Université Libre de Bruxelles.
As European I believe we don't highlight enough this citizenship. But we are part of a huge gathering across the continent and this need to be integrated in each and everyone of us. We are a big community! Even if we are not aware of it.
I joined JEF Belgium this year to be more connected to this community, and to interact with people that share the same values and the same hopes for the European project. I am interested in EU policies and how to implement them, especially with environmental and energy issues.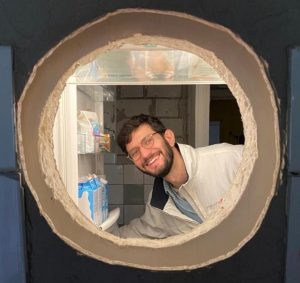 Hi, my name's Marco-Antonio. I'm the board member responsible for knowledge management and membership.

Knowledge management is a fancy term which means I share the knowledge we have gathered over the years with the current board and local sections to help them reach their goals, as well as organising the new knowledge we create so it can be accessible to future boards.

The second aspect of my role is dealing with membership: from making myself available to individual members and people interested in knowing more about JEF, to supporting our local sections with anything they might need to grow and thrive. In these tasks, I share some responsibilities with Elisa, who helps draft the manuals we use for knowledge management and who participated in developing the membership strategy for 2020 and 2021. 
I was born and raised in Belgium by an Italian dad and a Greek mom. I was schooled here and I then went on to study political science at ULB, with an Erasmus in Madrid. I graduated in 2020 with a master's thesis on European and national identity. I'm currently aiming at moving from my mom's place, that I share with two cats, to my own. Hopefully at least one of the cats will follow me.

In the 4 years I've been active in JEF Belgium, I've seen all kinds of different people approach the organisation. For this reason, I believe there isn't a single path to getting curious about JEF and European federalism. I see my role as trying to welcome everyone in the organisation, listening to them and giving them the tools they need to grow, both in their personal goals and as a youth activist. In being both a Belgian national and having received an international education, I believe I can relate to many of the groups present among our members.

I've met locals, as well as people who came from a variety countries, mostly European but sometimes as far as the United States or Colombia, who have come to call Belgium their home. I've had spirited debates with people all over the political spectrum: from the left to the right, without forgetting about our friends the environmentalists. I've met students, young professionals and people looking for a job. People who went into politics, as well as people who studied languages or biology. People with a lengthy experience in European topics and people who had never been involved in them but were animated by a feeling, or sometimes a question, about what it means to be European.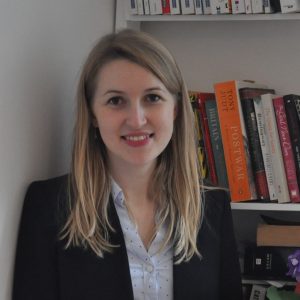 I've been involved with JEF since 2015, passing through JEF Göttingen, JEF Strasbourg and JEF Brussels on the way to the board of JEF Belgium!
Along the way, I've had plenty of inspiring discussions that have made me think about how the European project can be more democratic and more successful.
I've learned a lot through JEF and now I'm excited to share that with other young people!
When not JEFing, I work for the European Liberal Forum, the think tank and foundation of the ALDE party and Renew Group in the European Parliament.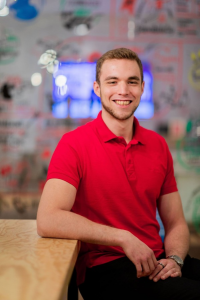 I discovered JEF Belgium in late 2020 when I attended a hackathon. The competition was about youth and the European Union. It was organized by Jef and I got along well with the participants. It was also perfect professionally speaking.

Regarding me: I was not always a convinced federalist. I was even eurosceptic a few years ago. Despite the fact that I was completing a degree in European affairs. However, during my last year as a student, I reflected a lot on myself, the choices I had made and the world I was about to enter.
Afterward, I accepted the situation: my skills were outdated and I was lacking some of them. I thus decided to upgrade my skills and expand my network by joining a few associations and by doing a 7-month training in web development. That's why I am helping Jef as Webmaster.
I am now a convinced federalist because, in my vision, I would see the Earth as a super federation, completing it in the EU will just be the first step.
I know that this is a utopia. On the other hand, if you want to have an idea about what kind of paradise earth could be if all states were to gather in a super federation, you can refer to the Star Trek universe!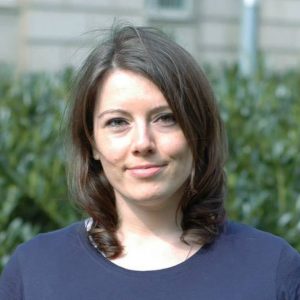 As someone who was always active in voluntary positions besides work and studies, I was searching for something to do in my new home Brussels. JEF was the perfect fit for me as it allows me to use my knowledge and experience in a youth organisation.
Coming from a village in eastern Germany, I'm familiar with the disenchantment towards politics and euroscepticism. I always try to engage people, especially from outside of the bubble, to inform them on how important it is to vote, what is going on in the political sphere and to be part of the discussion.
I studied Business Administration in Germany and did my Erasmus in Brussels. I never felt "German" but more "European" from the start. Using the borderless country crossing for work, studies and travels I know how worth it is to defend the European project. So coming from outside of the EU bubble I see it as an advantage to bring other views into the game. I used to be the treasurer and secretary general in 2019 and 2020. Now in my last year in JEF Belgium I'm mainly focusing on knowledge management. Other topics are organising seminars, developing onboarding processes for new members and the website.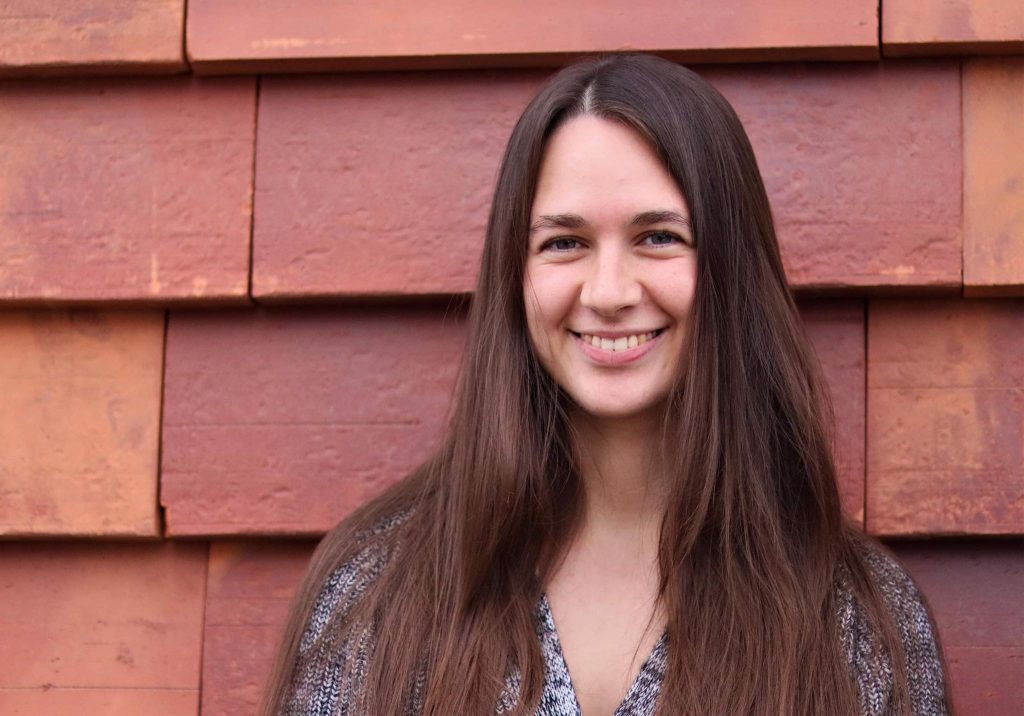 Hello, I'm Maja, one of the latest additions to the 2021 board members of JEF Belgium! I'd consider myself as a Hungarian expat in Europe as I lived most of my life abroad – most recently in Belgium where I completed a bachelor in Social Sciences at the VUB in 2019.
Currently I am doing an Erasmus Mundus master in Journalism in Denmark and the Czech Republic with a focus on Eastern Europe.

My journey with JEF was quite eventful and unexpected in a short period of time but nonetheless already very enriching! In June 2021 I joined as a digital journalist the Y-FED simulation organised by JEF, and wanting to learn more about the organisation, I got in touch with the board of JEF Belgium, where I was doing an internship. From the very first minute, the board took me under their wings and I was instantly amazed by their professionalism and passion towards supporting the idea of a European Federation.
To be with young people who share the same interests and European values as me is both comforting and inspiring as it creates a space which feels like home but also opens up countless opportunities for personal development. I am therefore more than excited to bring some of my journalistic and communication skills to the table but also learn what the JEF spirit really is about!
Thibaut Dawance – LLN Officer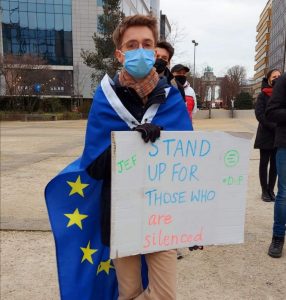 Hi ! My name is Thibaut, I'm currently a student in political science at UCLouvain.
I joined JEF Belgium this year as LLN officer with the mission to relaunch the local section of Louvain-la-Neuve. With a lot of students and political and other youth organisations, this campus is full of opportunities to develop JEF and welcome new members to promote our federalist vision for Europe.
My passion for history has led me to discover Europe, its culture, regions and languages. Today, I promote a European vision in politics. Indeed believing in Europe is a rational choice to defend my values. For Europe failure is not an option, it paves the way on peace, tolerance, multiculturalism and it is still in progress so I'm happy to work improving it. So when I discovered a youth organization with the same vision as me, I wanted to get involve.
I'm interested in international relations especially eastern neighbors of the EU. Above all I want to make popularisation about this matters to share my passion and help people understand all this EU stuff.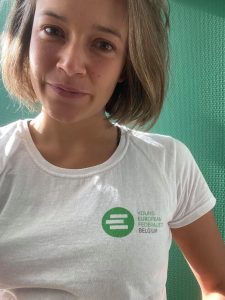 Hey, I'm Anna, JEF Belgium's directly elected Federal Committee member. I first joined JEF in my hometown Göttingen in Germany back in 2015, where I was immediately allured by JEF's trans-partisan network of active, European-minded youth groups across the entire continent. After completing my Erasmus Mundus Master in European Studies, I moved to Brussels. In the election year 2019, I joined JEF Belgium as their international officer and led the 'I choose Europe' project for JEF Belgium in close cooperation with JEF Europe and our local sections.

This intense learning experience convinced me even more of our activism as JEFers and made me fall in love with the infamous #JEFspirit once and for all. Based on this strong and long-term motivation, I served JEF Belgium as president for another rich 15 months – an honour and exciting tasks I am truly thankful for!
With my new responsibilities as mother, I decided not to run for the presidency again but for the position of a directly elected member of JEF Belgium's Federal Committee. I am committed to enhance the political and advisory work of this body together with the national board and the local sections. The sky is the limit!