Have a look at our ACTIVITY REPORT 2019 !
And let us introduce you to the JEF Belgium board members from January 2019 to January 2020:
Ine Tollenaers – President (LinkedIn)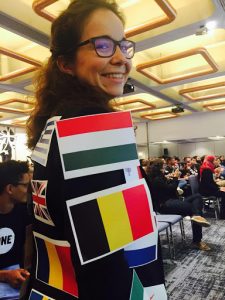 Short Presentation: Hello there! I'm Ine, the president of JEF Belgium. Born in Belgium in a village near the Netherlands and Germany, I grew up crossing borders (after all, groceries are cheaper in Germany ;-)) and loving Europe. Instead of focusing on differences, I choose to highlight the similarities between Europeans (and people more generally). I'm especially interested in EU Foreign Policy, youth engagement, and feminism. On top of that, it goes without saying that European Federalism carries a special place in my heart. Find me if you want to nerd out talking about the European elections or the MFF (don't worry if you don't know what that is, I also like having a good laugh over a beer). As president I represent JEF Belgium in meetings within JEF (e.g. JEF Europe, other sections) and other organisations (e.g. European Movement Belgium), I coordinate the amazing work that the team is doing and make sure that we are on track to reach our goals. If you're ever in doubt about whom to contact, just flick me a quick message and I'll refer you to the right person.
Marco-Antonio Berti – Secretary General (LinkedIn)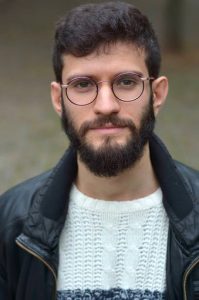 Short Presentation: Born and raised in Brussels from parents from 2 different Mediterranean countries, my friends often tell me I'm "a true european" due to my 3 cultures. I tend to think I still need something from Eastern Europe to make that statement accurate but I still feel it to be quite true. I like to travel, although it's mostly for JEF seminars lately (Skopje, Liège, Struga, Novi Sad, London… you could do that too with JEF!). I study political science at ULB and I did my Erasmus in Madrid. It's during my studies that I discovered federalism and the difference with simply being "pro-european" (too long to explain here but in one word: subsidiarity. We can talk about that in person). That's why I joined JEF: I'm firmly convinced that federalism is the best and only way to fight both the ghosts of the past and face the global challenges of the future, by strengthening our democratic control over european institutions while letting the uniqueness of each culture shine through. My duties as Sec Gen involve mainly organising our meetings, keeping an overview of our many projects and assisting the president. Feel free to approach me to discuss these topics, or anything else you're interested in, from grunge music to shiny unicorns. You can find me at the bar with the rest of the board or contact me online.
Elisa Löwe – Treasurer (LinkedIn)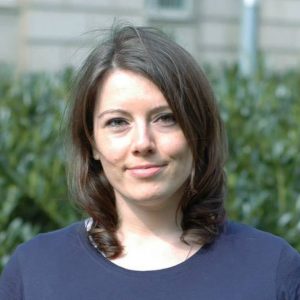 Short Presentation: As someone who was always active in voluntary positions besides work and studies, I was searching for something to do in my new home Brussels. JEF was the perfect fit for me as it allows me to use my knowledge and experience in a youth organisation. Coming from a village in eastern Germany, I'm familiar with the disenchantment towards politics and euroscepticism. I always try to engage people, especially from outside of the bubble, to inform them on  how important it is to vote, what is going on in the political sphere and to be part of the discussion. I studied Business Administration in Germany and did my Erasmus in Brussels. I never felt "German" but more "European" from the start. Using the borderless country crossing for work, studies and travels I know how worth it is to defend the European project. Currently I'm working in the real estates business in Germany managing remotely a team in Berlin. So coming from outside of the EU bubble I see it as an advantage to bring other views into the game. Besides my official position as treasurer I'm working on organising seminars, developing onboarding processes for new members, knowledge management and the website.
Anna-Lena Sender – Political & International Officer (LinkedIn)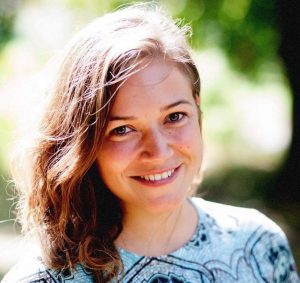 Hey, I'm Anna, JEF Belgium's political & international officer. I first joined JEF in my hometown Göttingen in Germany, where I was immediately allured by JEF's trans-partisan network of active, European-minded youth groups across the entire continent. During my BA studies in Lüneburg, I worked for the Europe Direct Network and co-founded the EU youth initiative 'arthen.eu'. My Erasmus Mundus Master in European Studies (Euroculture) with stays in Groningen, Netherlands, and Kraków, Poland, finally brought me to Brussels. Since 2017, I've been working for the EU office of the German Academic Exchange Service (DAAD), advocating for enhanced European cooperation, more cross-border mobility opportunities and better social inclusion in higher education. My main role as board member is to coordinate the 'I choose Europe' project for JEF Belgium in close cooperation with JEF Europe and our local sections. Besides, I'm an audacious cyclist, yoga addict and passionate swing dancer. Voilà :D
Hélène Decottigny – Political Officer (LinkedIn)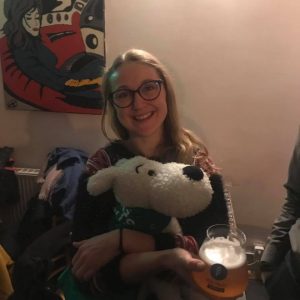 Short Presentation: As obvious from above, my name is Hélène. As also obvious, I have a very sarcastic (sometimes poor) sense of humour. I am born in Europe. More precisely in a small part thereof named "France". However, I also lived, studied and loved in Estonia, Malta and Belgium. It is thus through the concrete use of  my EU citizen's rights, the ones I was taught about at University, that I became myself so convinced about the project. I studied European Law in depth. And the more I knew, the more I realised that most people actually misjudge the functioning of the EU. As lawyer, I am fascinated by the sui generis nature of the EU legal order as well as the role of the European Court of Justice in its construction (it is nicer than it sounds). I now work as legal officer for the European Commission. I have worked for many years in different pro-European associations, with only 2 goals in mind: raising awareness & having fun working with people who share the same passion.
Lorenz Remy – Project Officer (LinkedIn)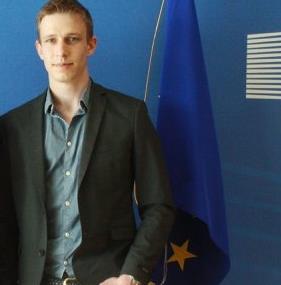 Short Presentation: Hi! I'm Lorenz. Born in Geel and longtime federalist.
Studied IT and got my interest in Europe gradually and broadly: Erasmus, living practically next to an EU institution, a good amount of travelling, making friends all over and discussing politics on the internet more than was good for me. I became a moderator on r/europe, met plenty of other federalists and from there moved on to organising some europe wide meetups. After all that I ended up liking JEF's outreach and ended up becoming a member.
I hope to help where able, help JEF grow and expand its outreach.