[Nederlands] [Français]
What is federalism?
Broadly speaking, federalism is about democracy on all levels of government. The core principle of federalist thought is subsidiarity, meaning that policy should always be conducted by the level of government that is closest to the citizen. Only when either policy or democracy cannot be organised on the lowest level of government, higher-level governments should be responsible. This is often the case for very complex issues such as defense, monetary, economic, industrial policy, and ecological policy.
European federalists argue that as the world is globalizing, democracy must also globalize. The crisis showed us that our national governments aren't able to rule the globalized markets anymore. The European level of government should become more important and therefore also more democratic. Therefore, we must organise democracy around European citizens, rather than European nations.
Why federalism?
For peace
Federalist thought is based on the creation of a peaceful world order that is governed by cooperation and multilateralism, rather than by conflict. Federalism is about establishing a society in which people and groups can coexist peacefully, with respect and understanding for their differences and identities. United in diversity. In this way, federalism is one way to make Europe into the largest peace-project of all time.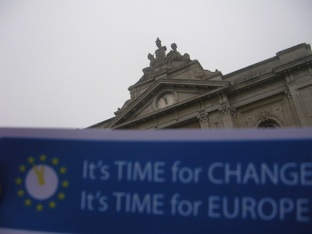 "Peace cannot be attained without a federation of peoples, in which even the weakest member can look for its rights and security not to its own power or adjudication, but to this great confederation, to the united power and the adjudication of the collective will."
— Immanuel Kant on Federalism and Peace: Idea of a Universal History on a Cosmopolitan Plan, 1784
For democracy
One of JEF's largest priorities is the protection of democracy and democratic values in international decision-making. JEF supports democracy in several ways: protest actions against Lukashenkos "election" in Belarus, but also by promoting federalism as a solution to the problems of transparency, democracy, consistency, efficiency and clarity in the EU institutions. To make the EU a real democratic political entity, the EP should to be strengthened and the commission should be transformed into an elected and accountable European government. This could enable the EU to represent and defend the interests of its citizens in today's globalized world.
Common problems need common solutions
Today we live in a globalized world where economical, environmental, cultural and political challenges are not limited to national borders anymore. These problems affect everyone, climate change won't stop at the Belgian and European border. That is why we need to involve everyone in the decisions. Common institutions like the UN and the EU should be strengthened so that it becomes possible to jointly tackle the issues that reach across the borders. But to preserve plurality and difference we should at the same time make sure that the decisions about national issues stay at the national level: as close to the citizens as possible. JEF believes firmly in the value of this subsidiarity principle.
One voice in the world
Today, Europe's voice sounds weak and divided. A jointly acting Europe could operate as a strong global player and meet the challenges of the 21 century. To attain this unity, it is important to get rid of shortsighted nationalism that can be found in all kinds of European policies and institutions, like the Common Agricultural Policy or the failure to create a single European foreign policy. Veto rights have to be replaced by common democratic decisions that prevent deadlocks, in stead of create them. By speaking with one voice, Europe can and must play an active role in promoting international law, Human Rights and global justice.