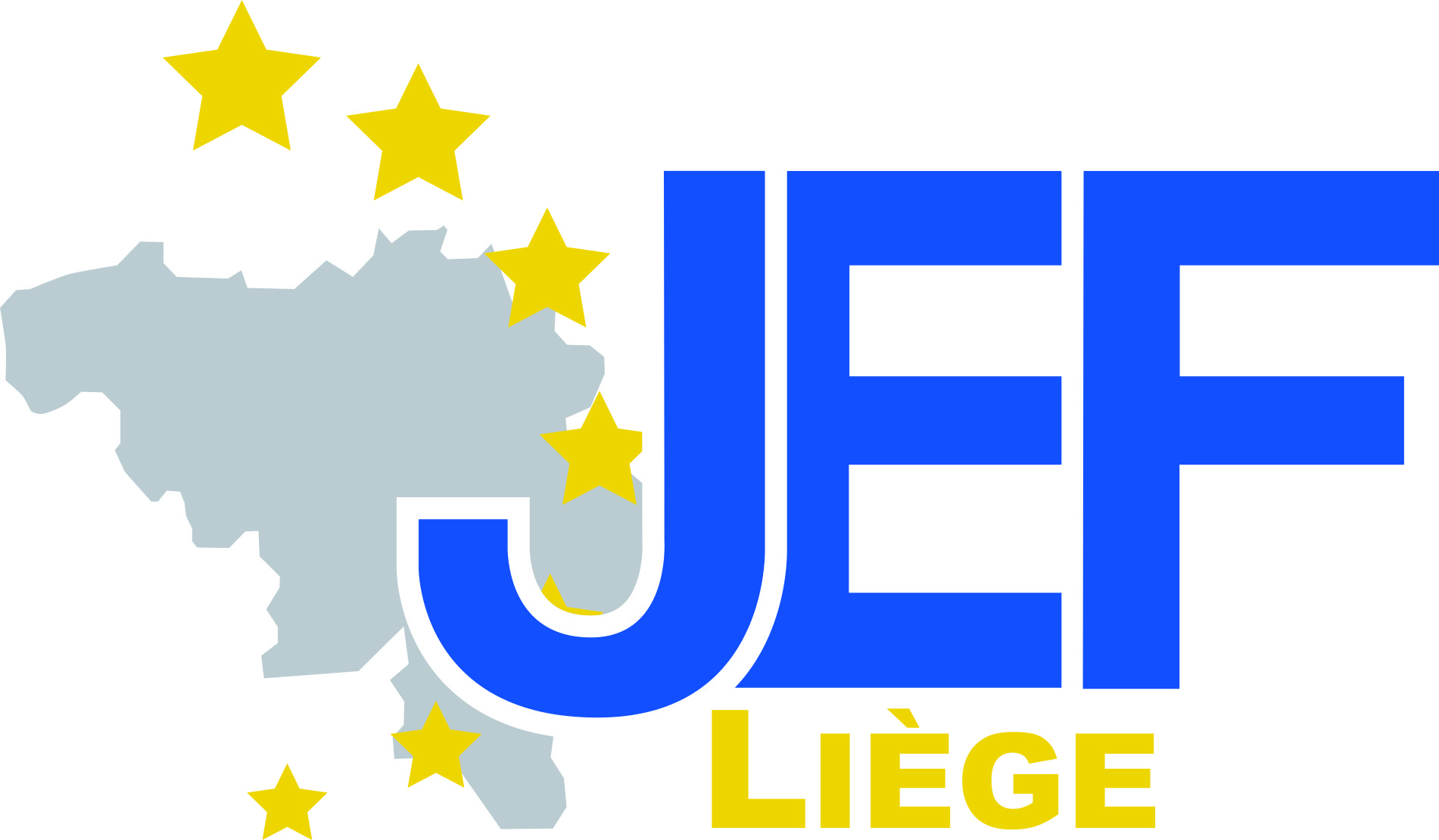 [FRANCAIS] Tu penses que l'Europe devrait être plus unie? Tu ne rates jamais une occasion de faire la fête et de rencontrer des gens? Alors n'hésite pas à te renseigner sur la nouvelle section de JEF créée à Liège par des étudiants de l'ULg!
Qui sommes-nous ?
Des étudiants de 2e, 3e Bac et 1er Master à l'ULg en faculté de Sciences Appliquées, Droit et HEC. Nous avons fondé la section de Liège de JEF en février 2013, c'est la 5e à voir le jour en Belgique après Bruxelles, Gand, Louvain et Louvain-la-Neuve. JEF Belgium fait partie du JEF Europe (Jeunes Européens Fédéralistes) qui compte près de 20 000 jeunes européens dans 30 pays du continent.
Que faisons-nous ?
Nous organisons des soirées, des descentes dans le carré et des réunions mais aussi des débats avec des personnalités, des actions de sensibilisation et d'autres activités à Liège ou en collaboration avec les autres sections ailleurs en Belgique ou en Europe.
JEF c'est avant tout l'esprit européen. Rejoindre JEF vous permettra de rencontrer des jeunes de toute l'Europe et de participer à des séminaires internationaux, de vous ouvrir au reste du continent et de vivre une expérience unique.
Comment nous contacter ?
En nous envoyant un mail à jef.liege@gmail.com ou un message sur notre page Facebook.
Bureau de JEF Liège

[ENGLISH] Do you think Europe should be more united ? Are you always ready to make parties and meet people? Then don't hesisate to get information about the new JEF section, created in Liege by ULg students!
Who are we? Students from University of Liege. We created the JEF Liège section in february 2013. That's the 5th Belgium section to be born, after Brussels, Gent, Leuven and Louvain-la-Neuve. JEF Belgium is part of the European organisation JEF in which more than 20,000 young people from more than 30 countries are taking part to various activities all around Europe.
What do we do? We are planning evening events, parties, drinks in the famous « Carré », but also meeting with political people, debates and other activities in Liège or in collaboration with other sections in Belgium and Europe.
Joining JEF is above all getting the European spirit. It will allow you to meet young people from all over Europe, to take part in international meetings and activities, to discover the continent and to share an extraordinary experience.
How to contact us? By sending us an e-mail (jef.liege@gmail.com) or a message on our Facebook page.
[NEDERLANDS] Ben je voorstander van een meer verenigd Europa? Kijk je er naar uit om nieuwe mensen te ontmoeten in een internationale omgeving? Dan is JEF Luik, georganiseerd door én voor Luikse studenten, misschien wel iets voor jou!
Wie zijn we? Studenten uit Universiteit van Luik. JEF Luik werd opgericht in februari 2013 als de vijfde Belgische afdeling na Brussel, Gent, Leuven and Louvain-la-Neuve. JEF België is één van de 30 nationale afdelingen die JEF Europa rijk is en is tevens de jongerenorganisatie van de Europese Beweging België.
Wat doen we? We organiseren niet enkel drinks in de bekende uitgaansbuurt « Le Carré », maar ook bijeenkomsten, debatten en andere activiteiten met journalisten, MEP's,… kortom mensen werkzaam in het Europese beleid debat. De meeste van onze activiteiten vinden plaats in Luik, maar er zijn ook mogelijkheden te over om activiteiten bij te wonen van andere lokale JEF-afdelingen in België of elders in Europa. Lid worden van JEF Luik heeft dan ook vele voordelen: je zal nieuwe mensen uit gans Europa ontmoeten, je krijgt de kans om deel te nemen aan internationale activiteiten en zo ons prachtige continent te ontdekken!
Hoe kan je ons contacteren? Je kan ons een e-mail sturen (jef.liege@gmail.com) of volg ons op onze Facebook pagina.