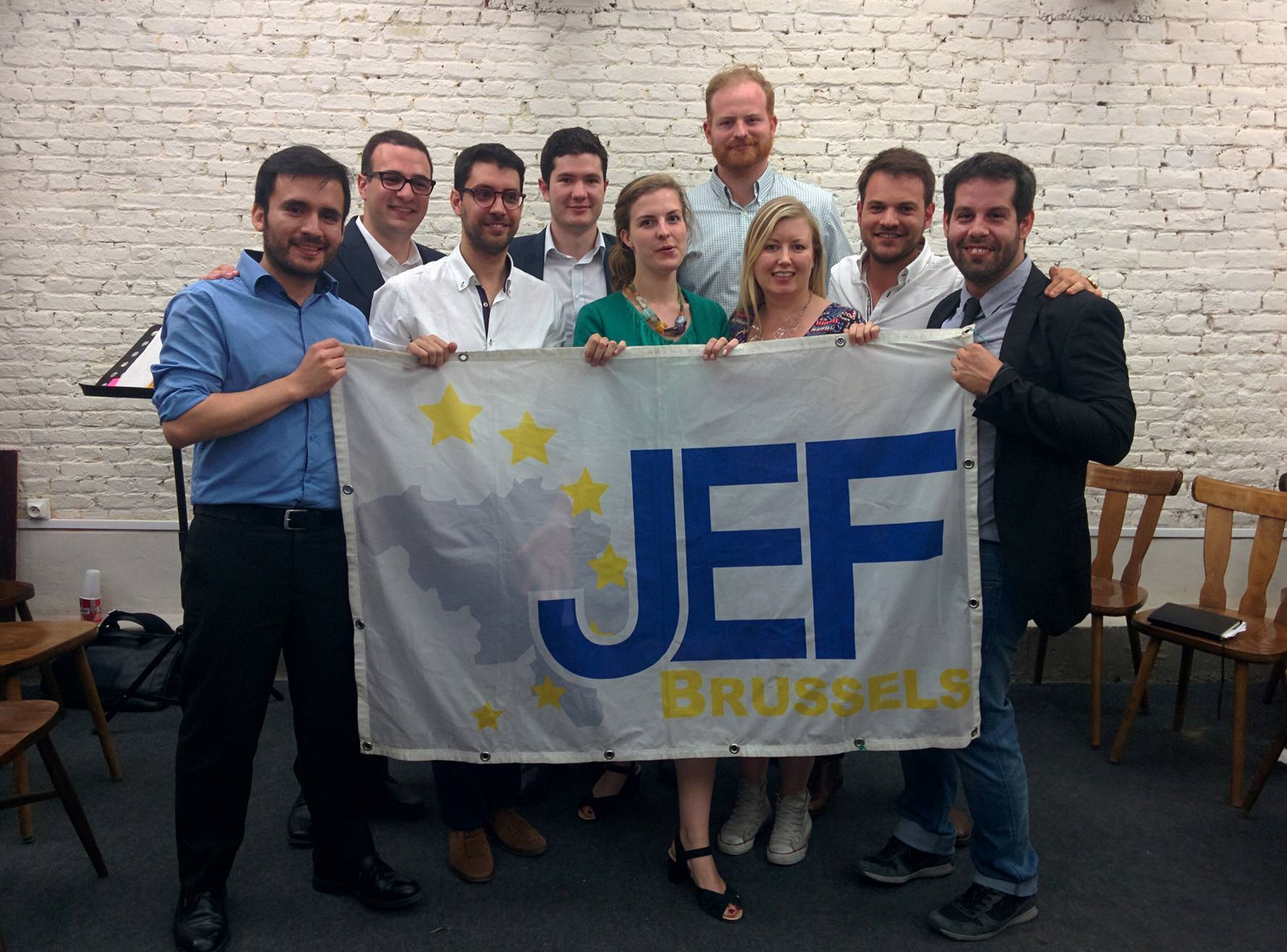 JEF Brussels is the vibrant organisation of Young European Federalists (JEF) in Brussels.
More posts about JEF Brussels can be found here.
Our Mission
Supporting European federalism;

Bringing young Europeans from all the corners of Europe closer together;

Organising debates, lectures, street actions, parties and much more;

Making Brussels the pivotal point of Europe that it deserves to be!
Objectives
The core objective of our local section is to gather students and young professionals living in Brussels who are committed to the values and objectives of JEF, i.e. the creation of a democratic European federation as a warranty for peace, freedom, justice and a democratic society.
The purpose of our local section is to organise activities and events in Brussels, the capital of the European Union. That's why we invite all our members and anyone else interested to join our famous 'Apéro' which takes place once per month. The so-called 'Apéro' enables young people living in Brussels to meet other EU-minded people and further exchange knowledge, ideas and thoughts about Europe, Brussels … and anything else of interest! In addition to this, we organise cultural and social activities as well as the political actions to promote the basic JEF ideas – and to have fun while doing it!
JEF Brussels consists of a small group of dedicated and motivated people. That's why we would like to welcome anyone who is keen to join us and participate to the development of this local Belgian JEF section. So, no matter if you're staying in Brussels for a fixed or indefinite period of time, don't hesitate to get in touch with us!
So hit that 'like' button on our page and stay informed about all our extremely cool activities and actions.
European regards!
Connect with us!
On Twitter |  On Facebook  |  On LinkedIn
Via Email: info@jefbrussels.be
Our Board
President: Daniel Perez Vega
Secretary-General: Laura Cornelis
Treasurer: Luke Brown
Casey McKenzie
André Patrocínio
Guillaume Jollet
Marc Soignet
Danica Vihinen
Eugene Gioni
Our Tweets
Follow our activities & events!