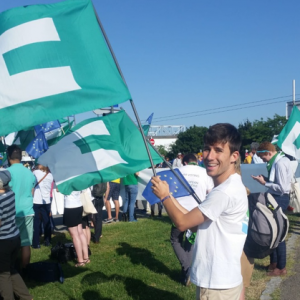 Hello there! My name is Nico.

After 3 amazing years first at JEF Liège and then at JEF Belgium as policy and project officer, I now have the immense pleasure to be president of JEF Belgium and to rule over this fabulous group of federalist minions.

I get very cheesy when I start talking about JEF so I hope you're not lactose intolerant (stop eating dairy anyway, you are not a baby cow!).
Being a JEFer has brought me so much over the past few years, be it in terms of self-confidence, knowledge, skills or inspiring friendships. It really makes me a better person and I can't wait to grow from this year as well which already promises to be full exciting projects and amazing people. This year, I want to make sure that JEF Belgium shines and that our JEFers thrive.
Never doubt that a small group of thoughtful, committed (young) citizens change the world. Indeed, it is the only thing that ever has". If you think so too, then you should join JEF. Never hesitate to contact me directly at nicolas.hubert@jefbelgium.eu in French, Dutch or English. I am sure super nice and I'm sure we have a project that will suit you, through which you can express yourself and make the best of it for you. Look forward to hearing from you. Nico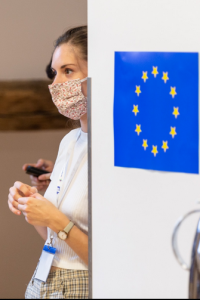 Originally from Brussels, I discovered JEF around a couple of beers in Liège. I wanted to learn more about the EU and meet new people.
Federalist? I didn't even notice that weird F at the end, I wanted to get involved in a Young and European environment, but at the time I had no idea JEF was more than that. It is unexpectedly that events after events, meetings after meetings I got the chance to discover a movement that fits my values and hopes for the EU.
An European federalism is for me a target to reach, while along the way there are many opportunities for the EU to improve. And JEF as an open-minded and inclusive movement is for me the perfect place to share thoughts and work together on a better European Union.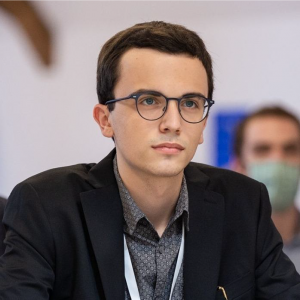 In my University courses, I studied the European Union from a theoretical perspective. I quickly realised that I was passionate about European politics, but I needed more Europe in practice.
That's why I joined JEF Belgium and the local section JEF Liège, in early 2020. In September 2020, I had the opportunity to co-organise the European hackathon « Youth hacks Europe ».
Passionate about scientific popularisation and education, I attach importance to the accessibility of European issues for all.
I am also involved in several other projects and organizations that promote youth citizenship (Civix, Youth Forum, European Youth Dialogue, …).
Théo Prestavoine – International officer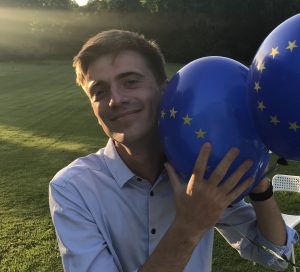 Hello, my name is Théo, and I am a young professional. My love for Europe truly started when I took part in the Erasmus programme in 2017, in Turku, in Finland. It was the first time in my life I was confronted with so much diversity, but also realised that we, Europeans, share so many things in common.
This is when I decided to do a Master's degree in European Studies. I discovered JEF two years later (better late than never) when I participated in the first edition of the Y-FED. The more I studied about Europe and European integration, the more I wanted to get involved.
I finally decided to join JEF Strasbourg as an active member in early 2020 when I moved to the beautiful city of Strasbourg! Despite the pandemic, I tried to help out with a few online events – and later on a few physical events. Now that I am living in Brussels, I decided to join JEF Belgium and was elected as International Officer.
I deeply think this is a shame when people refer to the European Union as "far away" when the EU does so many things. This is why I belive that one must promote more what the EU is doing and how it truly affects their lives.
I am also passionate about geopolitics and especially EU-Asia relations. I hope I will be able to work in this specific field!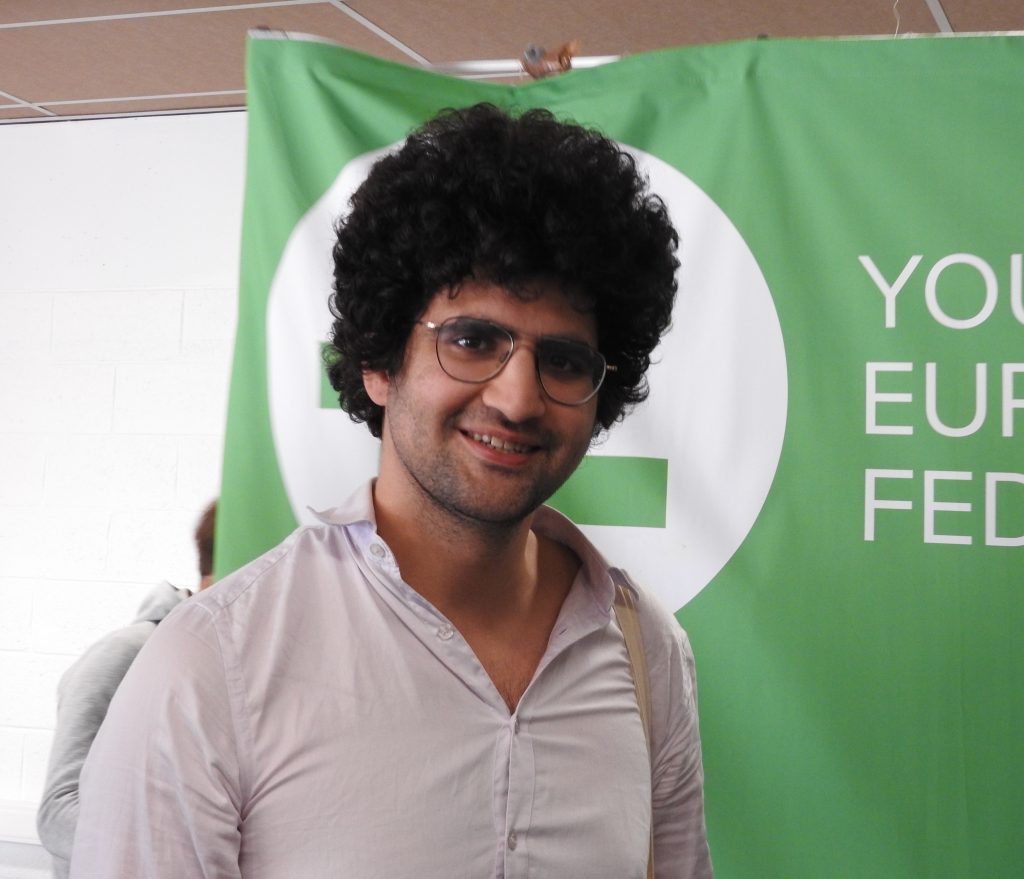 Hi Jefers! I'm Dvir, originally from Tel Aviv. I arrived in Brussels in 2021 and joined JEF over a beer at the Parc du Cinquantenaire. I was always fascinated with federalism as a way to solve conflicts and provide freedom and peace to all. My fascination with JEF grew when I discovered that it is not only a place to discuss our ideas for Europe, but is also a network that embodies what we want to see in the wider society – an international, pluralistic, and democratic space for participation and open dialogue.
As policy officer, I am working to enhance our capability to formulate concrete proposals that would make Belgium and Europe better places to live in and advocate for our federalist ideas at the national and European levels.
If you are interested in taking part in our policy discussions or you have any policy-focused idea, do not hesitate to contact me!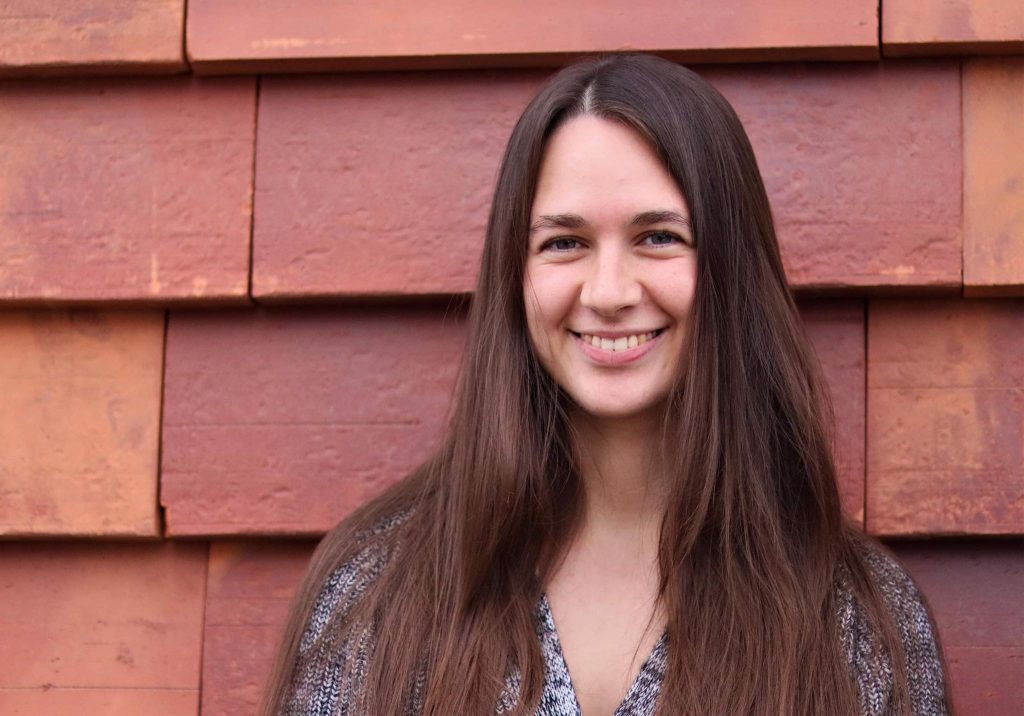 Hello, I'm Maja, one of the latest additions to the 2021 board members of JEF Belgium! I'd consider myself as a Hungarian expat in Europe as I lived most of my life abroad – most recently in Belgium where I completed a bachelor in Social Sciences at the VUB in 2019.
Currently I am doing an Erasmus Mundus master in Journalism in Denmark and the Czech Republic with a focus on Eastern Europe.

My journey with JEF was quite eventful and unexpected in a short period of time but nonetheless already very enriching! In June 2021 I joined as a digital journalist the Y-FED simulation organised by JEF, and wanting to learn more about the organisation, I got in touch with the board of JEF Belgium, where I was doing an internship. From the very first minute, the board took me under their wings and I was instantly amazed by their professionalism and passion towards supporting the idea of a European Federation.
To be with young people who share the same interests and European values as me is both comforting and inspiring as it creates a space which feels like home but also opens up countless opportunities for personal development. I am therefore more than excited to bring some of my journalistic and communication skills to the table but also learn what the JEF spirit really is about!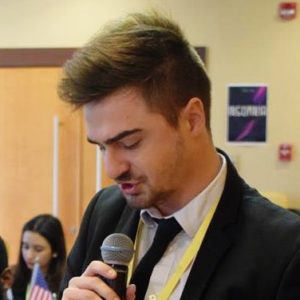 I am Cédric, a Belgian from Mons and living and working in Brussels at the moment.

I work as project manager and communication officer at Wallonie-Bruxelles International, which are the international relations of Wallonia and Brussels.
My academic background is linked to the international relations, which I graduated in 2018 at Université Libre de Bruxelles.
As European I believe we don't highlight enough this citizenship. But we are part of a huge gathering across the continent and this need to be integrated in each and everyone of us. We are a big community! Even if we are not aware of it.
I joined JEF Belgium this year to be more connected to this community, and to interact with people that share the same values and the same hopes for the European project. I am interested in EU policies and how to implement them, especially with environmental and energy issues.
Francesco Bottegal

– Executive Board Member
Gabrielle Goyer-Mevel

– Executive Board Member
J

oachim Neuböck

– Executive Board Member
Danni Inge

– Executive Board Member
Viktor Roussel

– Executive Board Member
Jonathan

– Executive Board Member
Federal Committee Members