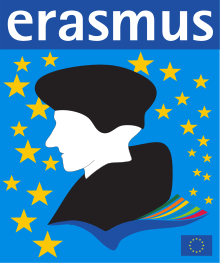 "Are you one of the almost 3 million people who had the chance to have a study period abroad? Did you know that the first Erasmus program was launched on the 15th June 1987? This achievement shows how common projects make common dreams come true. When citizens come together, mutual understanding and solidarity increase: that's the Federalists conviction!" (JEF Europe, 2012)
Yesterday was the 25th anniversary of the Erasmus Programma, fully quoted the EuRopean Community Action Scheme for the Mobility of University Students. The original Erasmus Programme was proposed by the European Commission in the beginning of 1986. The smaller countries supported the proposal, but some of the major countries like the UK, France and Germany were not completely in favour of the proposal because they wanted to protect their own exchange programmes. It wasn't until France was convinced that the Erasmus programme was finally adopted by a simple majority in the beginning of 1987. However, this method of voting was challenged by some of the opposing countries in the European Court of Justice. Fortunately, the Court didn't follow the arguments of these countries! Nowadays, the Erasmus Programme and other exchange programmes such as the Leonardo da Vinci programme, make part of the Lifelong Learning Programme of 2007 – 2013 which replaced the former Socrates Programme as the European umbrella for education and training programmes.
The Erasmus programme is named after the Dutch philosopher,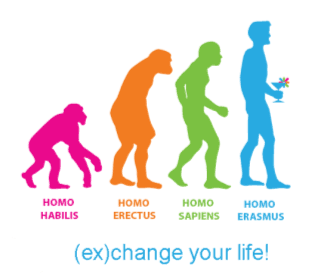 humanist and 'university hopper' Desiderius Erasmus of the city of Rotterdam. In his footsteps, almost three million students from 33 European countries had already the chance to study abroad. But even more important is the cultural component of the Erasmus programme as it is for students the perfect opportunity to learn more about the rich diversity of our European continent in different ways: food, languages, parties, sports, student citytrips,… And we can see Erasmus even broader than that. Like the German political scientist Stefan Wolff said: "Give it 15, 20 or 25 years, and Europe will be run by leaders with a completely different socialization from those of today".
In the coming months, we will put several Erasmus stories written by JEF'fers online. If you want to share your Erasmus experience as well, don't hesitate to send us (belgium@jef.eu) your story! Let's explore Europe, enjoy!