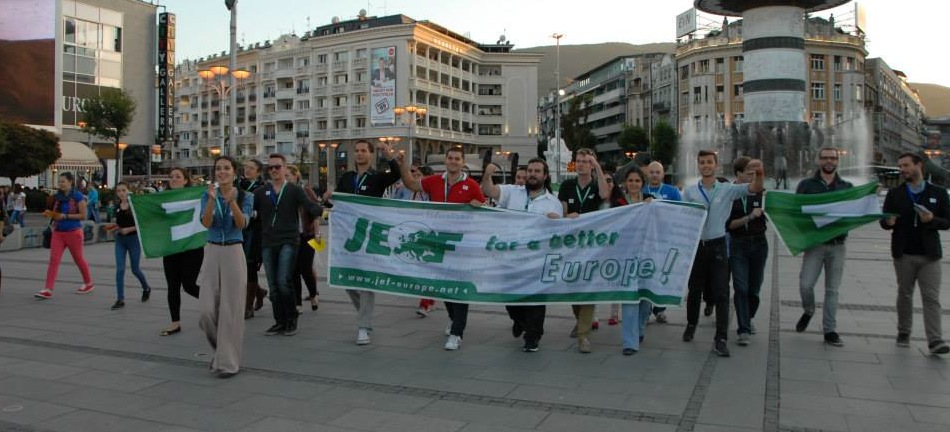 Young European federalists of Western Balkan countries (JEF Serbia, JEF Macedonia, JEF Albania and JEF Montenegro) are strongly opposed to the mechanism that enables EU countries to suspend visa free regime for Balkan countries. The mechanism was adopted by European Parliament on the 12th September 2013 and shall enter into force on the 9th January 2014. As JEF Belgium, we would like to support them in this cause! 
"With the latest changes, EU member states can suspend visa-free regime for Western Balkans countries which have a high number of fake asylum seekers. The mechanism represents a new threat for our countries and a step back in the visa liberalization regime. While these amendments are  being initiated by xenophobic political fractions as a justification for visa refusal, it is frightening to see that up to seven EU countries have announced serious considerations to begin this procedure." explains Jona Spahiu, president of JEF Albania.
"The real problem is that we don't have any information from the EU about who are these false asylum seekers as this data is in the domain of privacy right. Serbia has requested this information from Europol, but has not and cannot receive this information. Border control to the EU is stricter and the Western Balkans countries are working hard to address the problem. Proof of this is the fact that the number of asylum applications from the Western Balkans fell by 44% in January 2013 compared to January 2012.", stresses Isidora Mitic, International Secretary of JEF Serbia.
"European politicians must be aware of the fact that Balkan youth have been actively involved in projects supported by the EU itself, thus this decision would not only discourage youth to participate in future projects (especially Erasmus +) or to apply for EU scholarships – but it would be contrary to the EU aims, and, furthermore, it would violate the great platform which has been created by cultural exchanges of youth." explains Slobodan Djurovic, president of JEF Montenegro.
We would like to invite the EU countries to integrate its multiple domestic legislations into a cohesive European-wide framework and to expedite processing asylum requests. As a good practice example we can mention Switzerland, which defines "true" and "false" asylum applications within 48 hours of submitting an application. This inflicts no high costs for neither the country of  origin nor the country-recipient.
 "Visa liberalization is currently one of the biggest achievements and definitely the most visible achievement of our countries on their European path. How can we be expected to maintain a high level of optimism for integrating into the EU if the citizens' most valued benefit is being threatened?" – asks Kristina Angelovska, acting Vice-President of JEF Macedonia.
On this issue, the President of the Young European Federalists (JEF Europe), Pauline Gessant, states: "The Young European Federalists organise annually an action against borders between European countries. We actively support the mobility of citizens which is essential in promoting a sense of belonging to Europe, enhancing social exchanges and ensuring a friendly and tolerant society on the European continent. That's why we  strongly condemn any attempt to suspend visa free regime and recall our demand for a "visa-free Europe!"