14 February 2018 | Spending time with your significant other on Valentine's day? That's what we did! We <3 Europe 
Instead of spending time having a nice dinner, drinking some wine and eating amazingly delicious Belgian chocolates, JEF Brussels came up with a better way to spend Valentine's day: a training on how to spread the love for Europe on social media.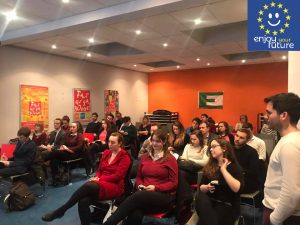 Social media expert Laurens Soenen explained the participants what the different algorithms used by social media websites such as Facebook, Twitter, Instagram and LinkedIn are and how to make the best use of them. The aim of the event was to learn how the EU should brand itself when informing and involving citizens on its policies concerning youth, employment, integration, borders and criminal organisations. 
After that, we also had a brief informal discussion on those different topics on which the EU should better communicate to its citizens.
This event was part of the Enjoy Your Future Project, more information can be found on the Facebook page here.