7 February 2018 | It's still more than a year before the European elections in May 2019, but it is never too early to discuss the future of European integration.
In the framework of the Enjoy Your Future Project, JEF Brussels organised a debate with two expert speakers to discuss the differences between European and Belgian federalism and how they can be examples for each other. Leonie Martin, Vice-president of the Young European Federalists (JEF Europe), explained the main features and benefits of European federalism and compared it to the current structure of the EU. Karel Reybrouck, PhD researcher in Belgian Constitutional Law, continued the debate with setting out the structure of Belgian federalism with all its specificities (oh yes – there are (too) many of them!).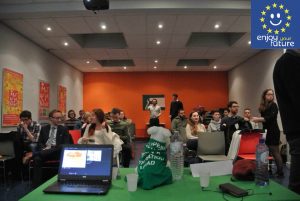 There was a lively discussion about whether a federal structure could be a solution to the problems the EU is facing or not, whether the EU should integrate more, which policy areas should get priority, and whether the EU should expand to other European countries.
Interested in debates like this? See you at the next event!