31 January 2018 | Visitors in Brussels! An exciting field trip of 60 German youngsters was the perfect time to inspire them to transform their ideas for the future of Europe into concrete recommendations.
We promoted the Enjoy Your Future game as a basis for discussions on different European topics. We mainly discussed the themes youth and employment, because the German participants were finishing their year of voluntary civil service and it fitted well with their background.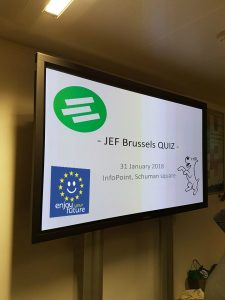 We also organised a quiz on these topics to kick off the event with a playful tone to encourage active participation of the citizens.
Follow this page to keep track of the latest Enjoy Your Future events (and much more)!