Voor de Nederlandstalige uitnodiging, klik HIER / Si tu veux consulter cette invitation en français, cliquer ICI.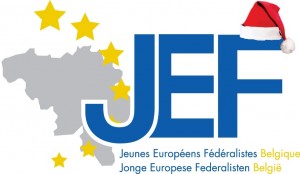 Join JEF Belgium to celebrate Christmas and toast on a New Year in Leuven with Gluhwein, cheesy christmas songs and a nice snack. And to get really in the christmas mood, there is Secret Santa. Entrance is free, but drinks will have to be paid. You only need to register and to buy a present of around 5 EUR for the person that will be mentioned in a mail you will receive later on.
Date: 20th December
Hour: 19h – …
Place: De Rector, Oude Markt, Leuven
So dont hesitate to sign up today! To be able to inform everyone who is going to buy a present for who, we will close the guest list on the 16th December. Enroll by filling in the form HERE.