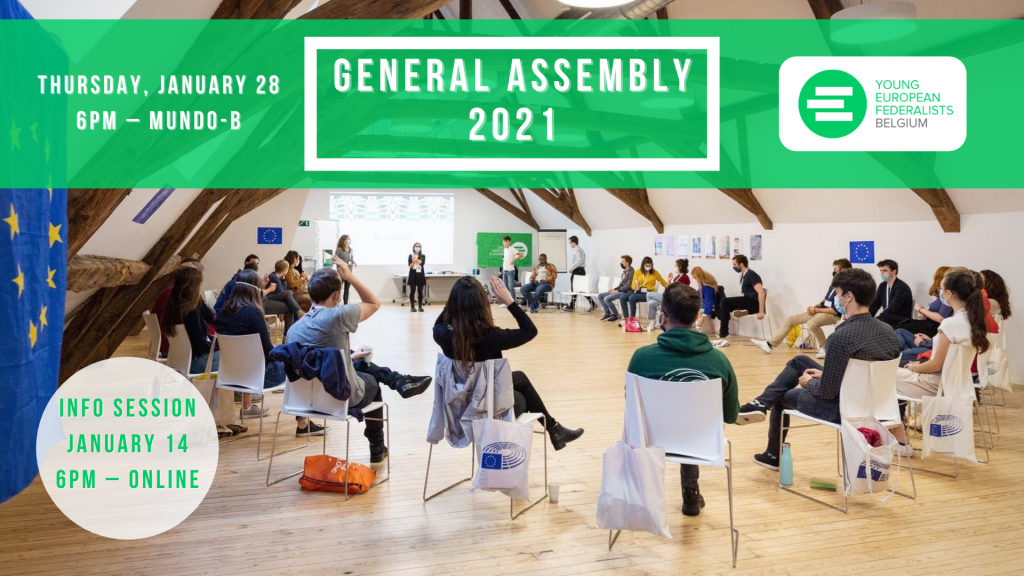 Save the date! Like every year, it's time for JEF Belgium to elect its new board members…
It doesn't matter if you are an old regular or if you just heard from us last week: WE WANT YOU to fed the EU!
There is plenty of place to join us, as you can run for the following:
President: head of the board
Secretary General: direct support to the president
Treasurer: taking care of the budget, applying for grants, supporting local sections for grant application and money management, taking care of travels and other reimbursements
Policy Officer: cooperating with federal committees on European and national level (i.e. work on resolutions, in political committees and task forces), coordinating with the Belgian section of UEF (Union of European Federalists) and EMB (European Movement Belgium), supporting local sections
International Officer: managing JEF Belgium's involvement in European projects, coordinating with JEF Europe and other national sections, participating in international events, engaging for the cross-border-network
Communication Officer: managing the communication channels of JEF Belgium (Facebook, Instagram, Linkedin and Twitter), developing the corporate identity for JEF Belgium, creating new designs and content in cooperation with other board members and local sections
Project Officer: proposing and/or running projects of interest, in collaboration with the board
Fund Rising Officer: looking for opportunities to finance the multiple projects and the organisation as whole
Webmaster: running the WordPress website, dealing with ICT issues, collaborate with the Communication Officer
Federal Committee Member: shaping the political direction of the organisation together with the board members
Or simply, you can support the team as a whole by becoming an Executive Board Member!
We did not convince you yet?
Follow the Facebook event and join our ONLINE INFO SESSION on January 14 to meet the current board, discuss with us and ask all of your questions!
Otherwise, you can already fill in this short Application Form.

IMPORTANT: To have the right to vote and/or apply for a position in the Board, you must be in order of membership. Please pay your membership fee (20€) for 2021 at the latest by 28 January 2021. If you haven't paid your membership fee yet, you can do so by following the instructions (If you are not sure, please contact membership@jefbelgium.eu).
See you soon!
Federalistly yours