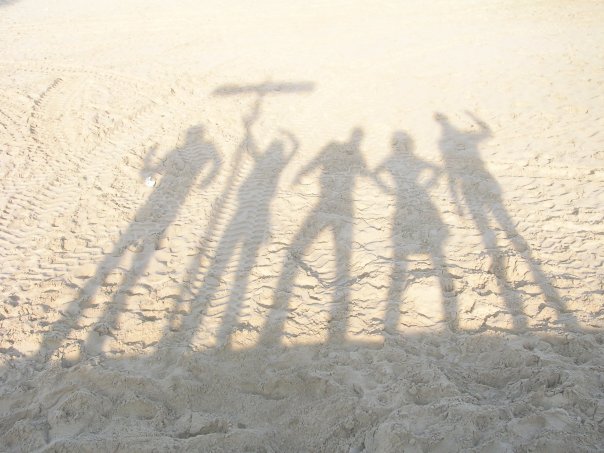 Wow, my first blog entry ever! This should be fun!
Last Thursday, the Europe@MYDESK event started in The Hague, a beautiful city in the Netherlands. I arrived around noon at the Holland Spoor station, where Ruben (the former JEF-Leuven president) and Zane were waiting for me. We then drove straight to Albert Heijn, some kind of enormously popular Dutch supermarket. We saw so many Albert Heijn stores in The Hague! Incredible: they are everywhere!
We then went to the project venue: the people of WFM were so friendly to let us use a conference room on the first floor of the building. Thanks guys!
The first day of the project was Europe@mynewsdesk. It consisted of a workshop on the use of new media technology. Since we didn't know much about this ourselves, we got a specialist on the topic to explain everything to the participants. Jon Worth, (ITguy/EU-enthusiast/atheïst bus man/former JEF-europe president/blogger/twitterer,…) really got into everything digital: he explained to the participants how to use blogs, facebook, twitter, and everything else on the internet to get some attention and get support for a project. He was really great. (Actually, this blog probably wouldn't exist if he wasn't there). After the seminar, we went out for a drink in The Hague. Unfortunately, we didn't know where to go, so we ended up in some Belgian beer bar, drinking the beers we already knew, listening to 90's house music… Urgh…
On the second day, it was time for a Europe@myschooldesk intervention. Because spontaneous discussions about the EU are interesting discussions most of the time, we just went to Leiden University to talk with some students. We told them about Erasmus programs, about other exchange programs, and we discussed. We discussed strengths and weaknesses of the EU, opportunities and threats, we talked, laughed and discussed with one student for over 45 minutes! We didn't have to agree on everything to just get along. United in diversity, you see? I think I learned more out of these discussions myself, instead of "teaching" others! Awesome!
In the afternoon we got to work on preparing the grande finale of saturday: the project management workshop…
On the last day, we got up real early: half past seven really isn't my prime time of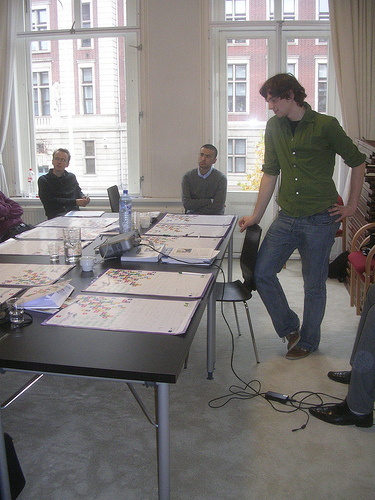 the day… but it was time for Europe@myofficedesk. The workshop on project management started at 10 o'clock. No specific guest-trainer like Jon this time, we had to do this one by ourselves. Well, not completely by ourselves actually; the participants gave a lot of feedback during the discussions, so we actually didn't have to "teach" them. They taught each other new things in a way on certain moments. I really like this kind of brainstorm-group learning approach. There were several participants that really contributed a lot: mister Prashanth Shanmugan, an Australian internationalist/backpacker knew an awful lot about the history of management (and about a lot of other things as well). He also has a blog, which I can recommend: it will undoubtedly prove to be an interesting read.
So, after some brainstorming, presentations, some lunch, writing our own project, a lot of coffee and some more lunch (héhéhé)  it was time to say goodbye to the Netherlands. But Prashanth had other plans: he gave us a guided tour of The Hague,  took us to his favorite bar and a nice pizza place, and we had a few drinks (Jaegerbomb!) before we went back to Belgium. It's so nice to meet great people!
Anyway, we all really enjoyed our time in The Hague. Let's just hope the other Desk events will go as well as this one!
Thanks for caring,
Peter