Yo, federalists, the best part of the European Youth Week is about to begin on Thursday: The YO! Fest.

This year, the festival is awaiting you at the esplanade in front of the European Parliament on 30th and 31st of May. We'll be waiting for you there!
If you missed the one last year, the YO! Fest is the annual youth festival organised by the European Youth Forum right outside the European Institutions. It got its name from the YO!Mag, the youth organisations' magazine in Europe, dating back to 1980.
Today, the YO!Fest is a political festival with debates, workshops and music, which mobilises youth organisations and other civil society partners, as well as thousands of people for a cause concerning young people in Europe.
It marks the time when us, the youth, are making the claim to become the main actors of the re-launch of European democracy: there will be the launch of the mobilisation campaign for the European Elections 2014 through the League of Young Voters, and a celebration of 25 Years of EU Programmes for Youth.
What can you expect to experience at the event?
The Village: An interactive space where national and international youth organisations will have the opportunity to engage with young people and wider public through interactive workshops and activities.
EU Citizens' Picnic: The biggest Brussels Citizen Action to celebrate the European Year of Citizens. Lunch boxes and blankets, discussions and debates, on real picnic grass!
League of Young Voters Kick-off: The platform of young people for the European Parliament elections 2014 will take off with events, debates and high-level speakers from the political and cultural world.
Concerts and Other Events:
On stage and on the esplanade, there will be various artistic performances to animate the festival. In the evening, two main concerts will take place.
Cheerleading Alert: Our members will be participating at the Debate Competition on Thursday. Come and cheer for our team in the debate ring!
Take a look at the full programme below. All the details are available on Facebook and on YO! website.
The events below are sorted chronologically and by the thematic venues. See you there!
Thursday programme: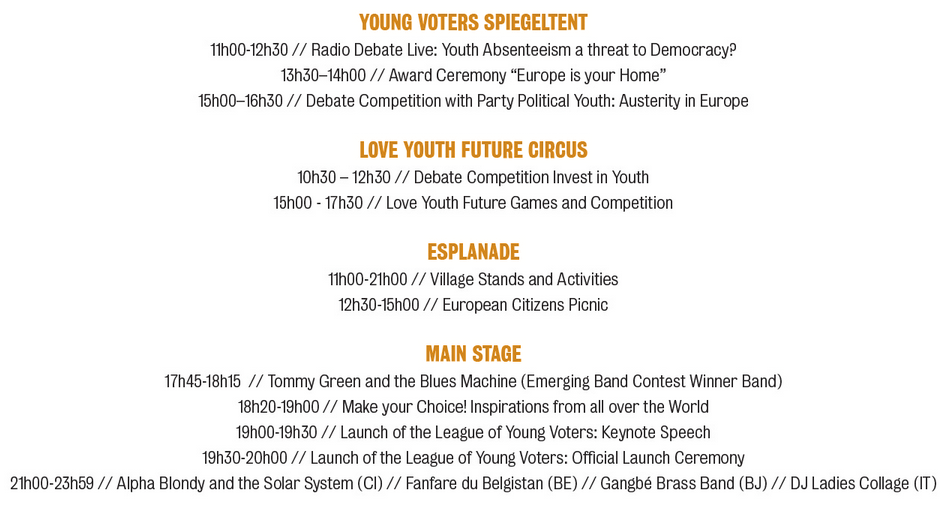 Friday programme: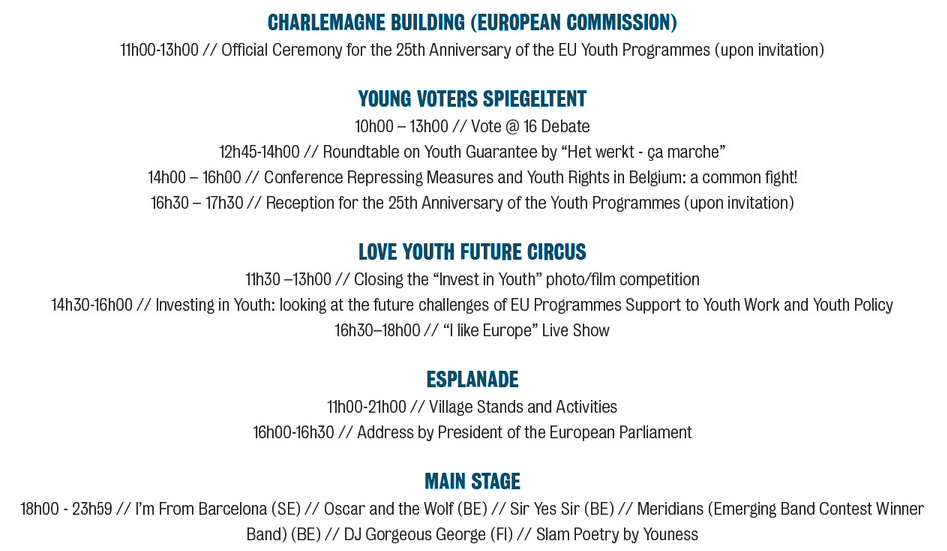 As seen on YO! Facebook and YO! website