*Register HERE (in English, Nederlands or français)*
Dear JEF'fers, federalists, Europeans and friends!
It's that time of the year again! The Young European Federalists Belgium are inviting you for a barbecue. Catch up on European affairs, win a prize with our European tombola, get to know us a bit better or just drop by to have a nice drink and some food in the sun (hopefully).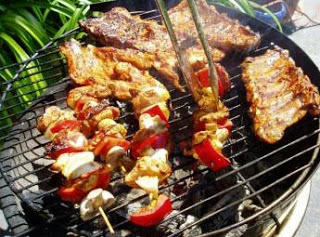 The barbecue will be organised on the 6th of July in the garden of LOKO in the centre of Leuven. We will start our event with an activity for the (new) members of our local sections at 14h00. And don't hesitate to come along if you're planning to be active in a local section or if you want to share your experiences with us. From 16h00 on, we welcome all JEF'fers, federalists, Europeans and friends for a drink and a nice chat while the tremendous smell of the barbecue will make you hungry slowly. If you're not able to join us for the barbecue but you would like to come along later that night, you're also massively welcome of course.
The price for a full stomach is only 8 euro for JEF members and 11 euro for non-members. In order to secure your booking (and your food!), the best way to proceed is to pay in advance to the following bank account number stating your name (or names in case you pay for other people as well): IBAN – BE79 4352 0218 2133 & BIC – KREDBEBB
When: 6th of July, 16h00 – …
Where: Garden LOKO – 's Meiersstraat 5, Leuven
Registration (in English, Nederlands or français): HERE 

See you in Leuven/Louvain!
The JEF Belgium Team