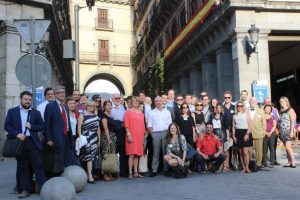 I think it is safe to say that Madrid  welcomed us warmly, perhaps a little bit too warmly, 38°C to be exact, but it takes more than that to discourage a motivated Federalist. Many UEF and JEF members were present in this beautiful capital of Spain, and as JEF Belgium we didn't want to miss it either!
We would like to express our special thanks to our JEF and UEF Spain hosts who took the time to show us around the city, bring us to the nicest bars and restaurants and share many historical and cultural aspects of what makes Spain such a great country.On Friday 16th June, the 
Union of European Federalists (UEF)
held, together with
The Spinelli Group
and
Elcano Royal Institute
, the debate on 'Europe at a crossroad: Time to complete the European political unity'. The panel was composed of prestigious guests, among which were several MEPs, professors and other pro-European figures. With more than 200 people attending, the event was a great success.