JEF Brussels member Hamza Serry-Senhaji, our new regular columnist, has written an action-packed report for all those who have missed two life-changing days with a group of enthusiastic European federalists. Curious about how it unfolded? Read on.
The JEF Belgium Training Days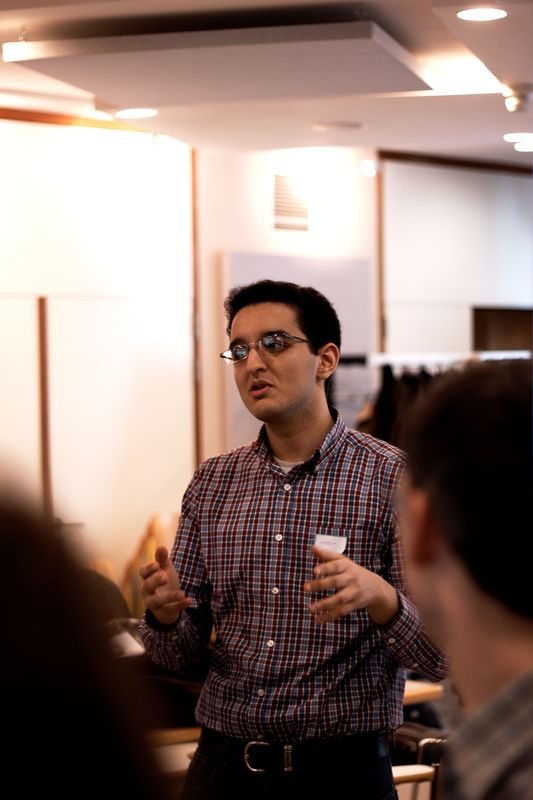 On Saturday 9th and Sunday 10th of March, JEF Belgium organized the third edition of its "Training Days" in no other city than Brussels, the capital of the European Union.
Around 30 young Europeans gathered at the event with the aim of improving their communication and debating skills and also to learn about the history, the goals, the diversity of our movement and what it means to be a young European federalist.
As an active fresh member of JEF Brussels, I thought that it would be a great opportunity for me to learn more about the movement, how we can communicate our message more effectively to our fellow European citizens and of course to meet and exchange thoughts with other JEFers.
The Training Days definitely met my expectations. The TDs were divided into two separate themes, "Being Young, European and federalist " on Saturday and "Activism and engagement" on Sunday.
Saturday: "Being Young, European and federalist"
Saturday was mainly themed around the history of European federalism and debates on European issues. After the participants arrived and registered, it was time to start the day with an introduction and a quick history of the European Movement, JEF Belgium, JEF Europe and the UEF.
Then it was time for a history hour on American federalism with Professor Leo Klinkers from the Netherlands, an expert in public policy and a co-author of the European federalist papers.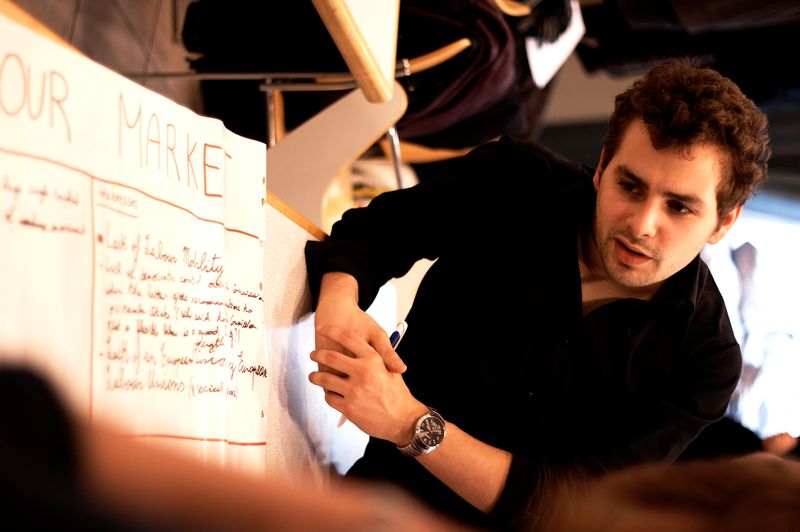 Going through his lecture using a pointing stick and a rigorous academic approach, Prof. Klinkers made it very clear to us what a vertical distribution of power means and gave us a brief presentation on American federalism, making a case for why the European constitution should resemble the American one. He also made a strong case against the Lisbon Treaty, told us why we should reject it and nonchalantly cursed its existence.
Following this lecture, it was time for a presentation on the past, the present and the future federalist struggles in the EU by European Federalist activists Monica and Matteo. It was interesting to learn what the roots of our movement are and to get to know our past achievements, such as the directly elected European parliament, the Maastricht treaty, the euro… and of course learn of our past failures in the struggle, the prime example being the common European defense policy.
The afternoon was mainly themed around a wide range of debate topics. We had the opportunity to discuss the topic "A Social Europe and what it means to us" with the EU MEP Kathleen van Brempt.
It was followed by a debate between two young Belgian political representatives. There were some heated partisan (liberal-socialist) debates on heavyweight topics like "Introduction of a European minimum wage", "Austerity vs. Growth", "The EU spends too much money", "The Erasmus generation is a lost generation" and so forth. We debated lots of topics and I found that there were different perspectives and a diversity of opinion among us.
Beyond this ideological divide, we found that at the end of the day, what we need is more Europe. A fiscal union is necessary condition but not a sufficient one to solve our woes. What we need is a full integration of Europe into a federation. We may disagree on some issues, on the reasons to be federalist and on the way to achieve a united Europe, but we all agree that the United States of Europe is the endgame, a continent where people are united in diversity.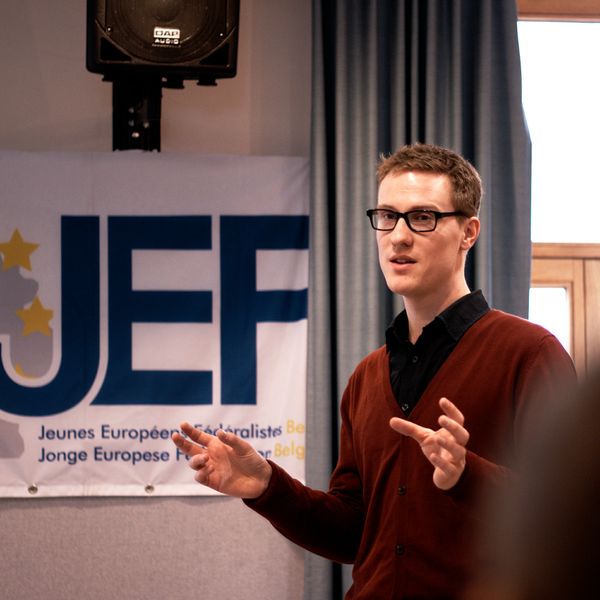 The JEF Training Days are not just about serious political discussions but also about having fun, meeting new people, eating waffles and overheated lasagnas. We ended the day in a local pub and had a great time.
Sunday: "Activism and Engagement"
After a difficult wake-up and a breakfast, it was time to get on with our second topic "activism and engagements". Its main aim was improving the functioning of our local JEF sections and how to communicate our messages more effectively to the European citizens.
We started with a workshop, aimed at improving our fundraising, recruiting and communication activities. Some very interesting ideas and techniques came up while we exchanged positive and negative experience from our local sections in that matter.
The next workshop was about media training. I learned the importance of making a message understandable even to a grandma, to make the distinction between an interesting story vs. a story of interest and the way to interact with journalists in order to get more media coverage.
Following both workshops, it was time for a brainstorming session on the upcoming 2014 EU election. The session was about how we can prepare and raise the awareness of the citizens for the next year's EU election. Very interesting ideas came up, e.g. "making the EU MEPs sign a pledge in favor of a federal Europe, analogous to the pledge Grover Norquist made the Republicans sign in the USA", "raise the participation rate of young voters by actively campaigning in the schools, the universities, the scouts and other organizations", "making a website where MEPs are graded on how pro-European they really are" and many other great ideas.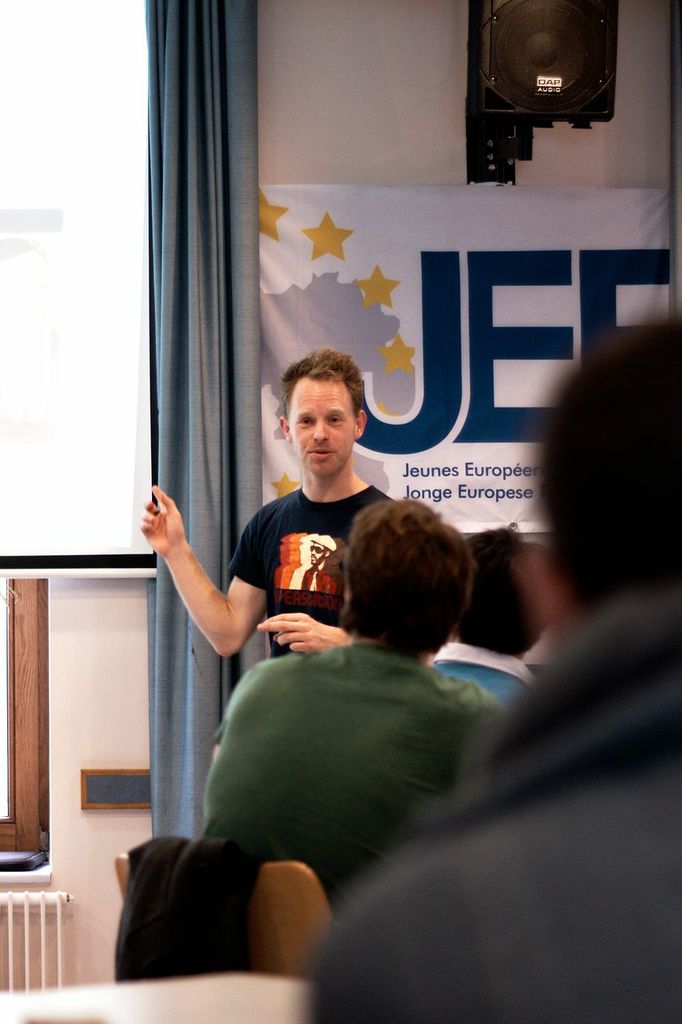 The Training Days ended with the annual general assembly of JEF Belgium where we elected a new board and jovially sang this "Europe United" song which doesn't rhyme all that well – at least in my humble opinion. Nonetheless, the whole event was certainly worth participating in.
During that weekend, I met people with diverse political backgrounds and visions of Europe, some were social-democrats others liberals. Some were against the austerity measures, others were in favor but we converged to the fact that what we need is more Europe and now more than ever.
I made new friends, enjoyed our discussions and would like to thank the team that managed the event! I also would like to wish the newly elected board of JEF Belgium good luck and wish them success!